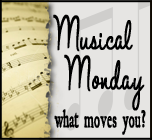 I have to admit that lots of music of the 80's isn't appealing to me. Any more, that is. I sure loved Tesla back then and I still do. I think they have reunited and do a little touring. I went to see them in concert in 1992. Good times. Here is Love Song circa 1989. If you watch the video you'll see that it certainly was the 80's. The hair, the clothes, oh my.
Love Song has one of the best intros ever.





Link up and play along! Click on the MM logo up there.