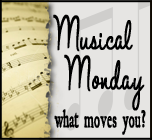 The last MM of this themed month is songs from movies. You are supposed to pick the best. That's just to hard for me. There have been so many great songs in movies that it would hurt my brain to think about the best. So, here are two I like.

Paint It Black from The Rolling Stones is one of the best songs ever. It's been used over and over in movies and TV. I didn't chose this video for the audio(not the greatest) but for Mick's sweet moves.

Another one just for fun.....