We are going for the theme this month. I don't know if I'll be able to stick with it but I'll give it a go. So this week's theme is chicks that rock. Kinda hard for me. I don't really like that many chick singers. Weird I know, but true.
Courtney Love
is controversial and a little whacked out. Love her, minus the drug addictions and all.
In other MM news.......
I got my swap CD! It's was the highlight of my weekend trust me! My CD was from Robin of
Cinnamon and Honey
and she did a pretty darn good job. I've only had a chance to listen once but here is a little sample of what it included.
Somehow Robin knew my favorite Stevie Wonder song. Thanks Robin, for a great CD.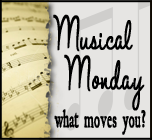 Play along!